Times are changing and we're changing with it! Keep following us on: www.honeydynasty.lv
Mainās laiki, maināmies arī mēs!         Turpiniet sekot mums: www.honeydynasty.lv
They are back in the show ring!
Three months after giving birth to 7 puppies our lovely Rosie is back in the show ring! 1800 km, two dog shows and two new champion titles. A very succesfull weekend!
At the IDS in Helsinki ALPINE ROSE Honey Dynasty got excellent, BF1, CAC, CACIB and BOB under Atilla Czegledi from Hungary, but at the IDS in Pori - CQ, BF1, CACIB and BOO under Noel Beggs from Ireland.
She is now the Finnish Champion and Interchampion.
Huge thanks to Anastasija for handling!
From now on 29/04/2017 will be a very important day to our family!
On this day hello to the world said the 4th generation of Honey Dynasty - "C" litter - our ALPINE ROSE's and MARQUEE's puppies - 5 boys and 2 girls.
Thanks to Andrea Malatestinic, dr. Robert Marczak and the whole team of Grobiņas veterinary clinic, specially dr. Gatis Kalniņš, this beautiful dream has come to life.
Mommy and puppies are feeling well!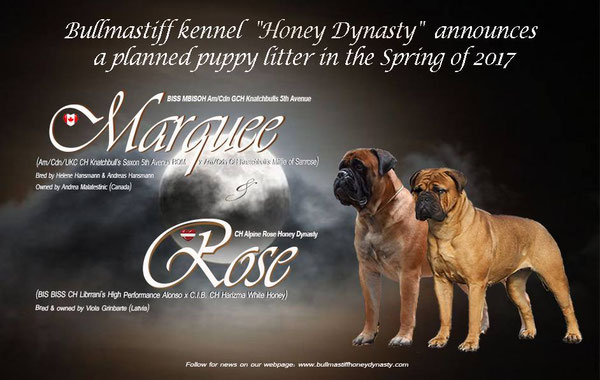 We're back from IDS in Minsk.
On 25/02/2017 ALPINE ROSE Honey Dynasty (open class) - exc., BF2, CAC, R.CACIB judged by Kornelia Butrimova (Lithuania).
On 26/02/2017 - HARIZMA White Honey (champion class) - exc., BF1, CAC, CACIB, BOB judged by Joao Vasco Pocas (Portugal).
Thank you for the nice words amd well-grounde exterior critique!
Both girls are now Champions of Belarus!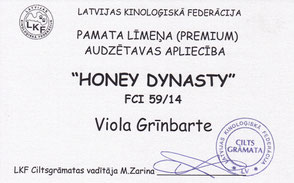 2017 has begun with exciting news!
"Honey Dynasty" has received FCI Premium kennel status.
To attain this status LCF Breeding Rules of Procedure requires a person to have passed cynological courses and bred at least two quality litters.
We did it and we're very happy and proud!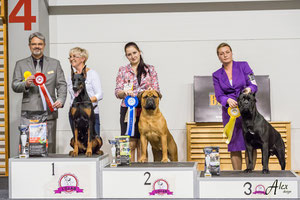 On 03-04/12/2016 in Liepaja at the NDS our ALPINE ROSE Honey Dynasty got 2xBOB and BIG 2!
To be the 2nd one after Doberman this time is a massive honour, it's great to receive such high evaluation from the honourable judge Luiz Fernando Ribas (Brazil)! Breed's judges was Demetris Christodoulou and Sonia Kelveri Philippou from Cyprus. Handling by Anastasija Smolova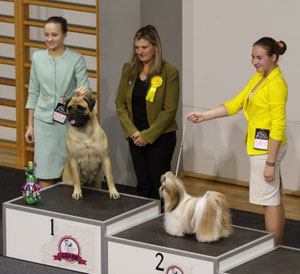 Congratulations Marta Kaņepe (together with our Harizma White Honey) on winning the handler contest! The last show in the youngest group has ended with a beautiful win!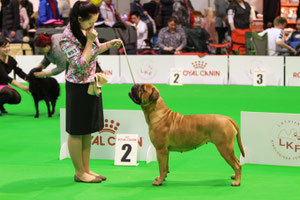 On 12/11/2016 in Riga at the IDS ZOOEXPO and the Baltic Winner'16 - ALPINE ROSE Honey Dynasty got excellent, CQ, BF1, CACIB and title BALTIC Winner '16 under Helen Tonkson-Koit (Estonia)
Thanks for Rose's excellent handling to Anastasija!
MILBU HANNA WHITE HONEY
(04/06/2008 - 17/10/2016)
Wait a little bit! I wanted to tell you something... Dear, you're the deepest root of Honey Dynasty, real and lively. You haven't disappeared anywhere , we still see you in your children and grandchildren. So many memories that are close to our hearts.. thank you Honey for your love and trust . But now run free , without pain and worries - someone's already calling for you there . I'm sure we'll meet again, I will definitely find you....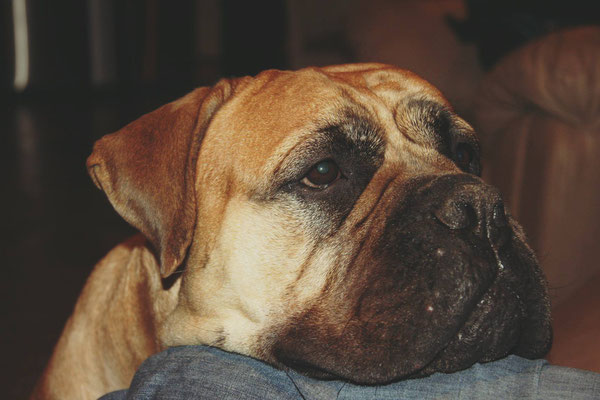 Today 11/09/2016. Two years ago Harizma and Alonso gifted us our amazing "A'' litter - 5 boys and 4 girls. There have been gains and losses, but that has only bonded us and made us even stronger. I can't thank you enough for providing our puppies with loving homes, your time and care. Enjoy every moment of joy that yours dogs bring you!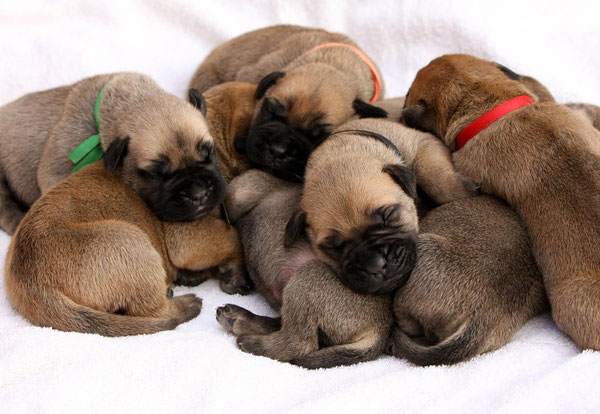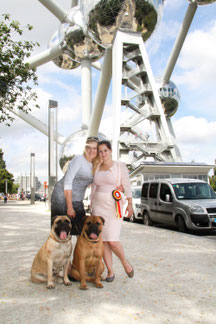 28/08/2016 in Brussels (Belgium)
at the European Dog Show  
ALPINE ROSE HONEY DYNASTY
in the Intermediate class (10 entries) and
HARIZMA WHITE HONEY
in the Champion class (18 entries)
got ''excellent".
Judge Carlos Salas Melero (Spain)
Thanks for your beautiful work, girls!
You made us proud :)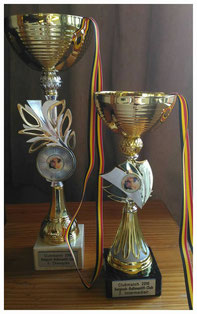 27/08/2016 in Putte (Belgium)
at the Belgish Bullmastiff Club show
ALPINE ROSE HONEY DYNASTY 
in the Intermediate class (9 entries)
got the 2nd place,
but her mom HARIZMA WHITE HONEY
  in the Champion class (10 entries)
got 3rd place
under honorable judge Sebastian Harnik (Poland).
Big thanks for excellent presentation of our girls to Anastasija!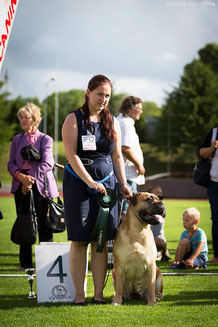 06/08/2016 in Liepaja (Latvia)
at the Double National dog show
after a long break, this time
MILBU HANNA WHITE HONEY 
competed in the veteran class and
got PP, VCAC and title BEST VETERAN IV in the show under judge Rafael Malo Alcrudo (Spain).
07/08/2016 she got PP and 2nd VCAC
under judge Andreas Savva (Cyprus).
We was very, very proud of our oldies!!!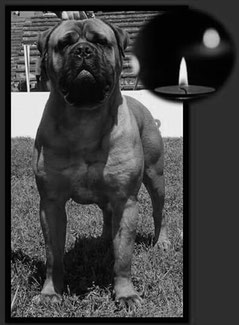 Life is life... It composes happiness with tears, winnings  - wih loss...
The news from Italy have filled our hearts with grief
ALBERO HONEY DYNASTY
(11.09.2014 - 02.08.2016)
We've prematurely lost one of our dynasty members...
Albero, run free behind the bridge of rainbow!
You will forever stay in our hearts and minds!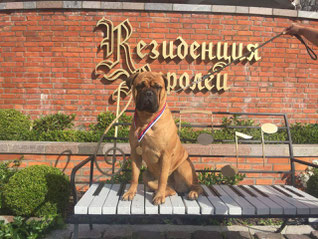 While we're busy with puppies,
Rose is working hard - 09/07/2016 in Kaliningrad ( Russia) she has got excellent, BF1, CAC, BOB and became Russian Champion!:)
12/06/2016 in Palanga (Lithuania)
ALPINE ROSE Honey Dynasty (open class) - excellent, BF1, CAC, BOB under judge Astrid Lundava (Estonia) and she can become Lithuanian Champion now!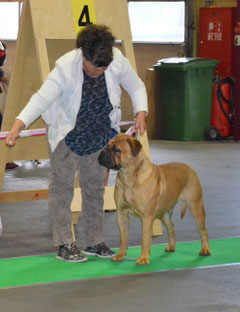 11/06/2016 in Riga (Latvia)
ALPINE ROSE Honey Dynasty (intermediate class) - excellent, BF1, CACIB, BOO and
title 'Latvian Winner '16" under judge Vija Klučniece (Latvia)!
BROOS, BEAUTIFUL CLEOPATRA, BERENICE, BLANCA and BARON!
You can't put into words how hard it is for me to say goodbye to you...
You belong to my heart and from now one you're honored part of Honey Dynasty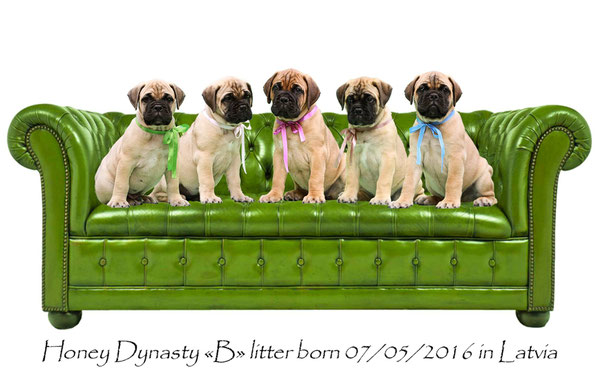 Four years ago the first "HONEY DYNASTY"s litter was born.
HELLA and HARIZMA are our pride and joy.
In this time they've both become Interchampions and mums to two beautiful litters. Hugs and kisses to our brothers - HISAR in Denmark, HORUS in Serbia, HOMER in Latvia, HECTOR in Lithuania and to sisters - DORA and SNUKE in Lithuania, HOPE and CLARO in South Africa and LUNA in Finland.
 We love all of you!!!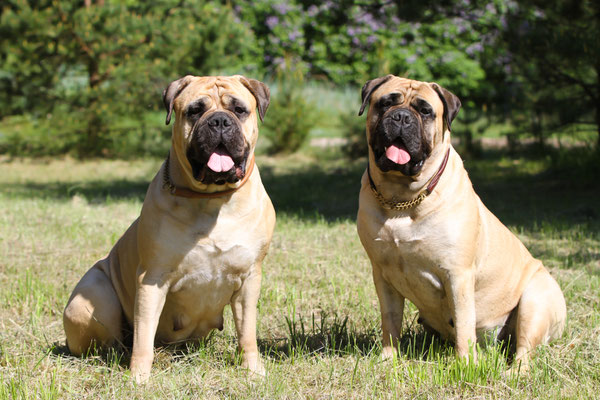 This world has become more colorful  <3
Early this morning 5 little treasures introduced themselves to the world.
HONEY DYNASTY proudly announces
the birth of Hella's and Maquee three little girls and two boys.
Mommy and her pups are feeling well!
I'm very thankful to Andrea Malatestinic for the opportunity to work with her!
Big thanks to our vets Robert Marczak and Ingrīda Tinte - Kalniņa, with whose blessing this dream could come true!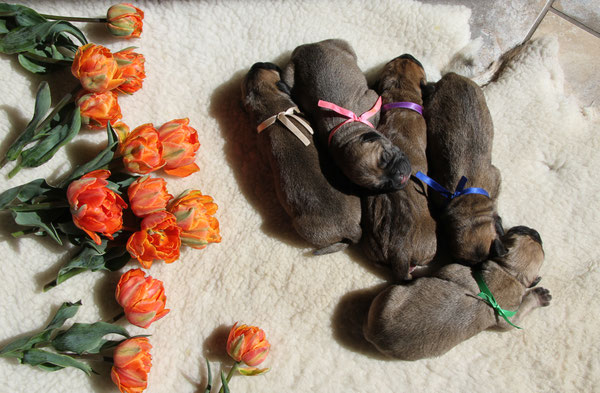 News from doctor's cabinet!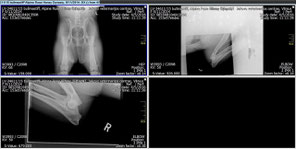 Rose has passed the hip-/elbow dysplasia test and the results are - HD:AB, ED:00. We've added the  x-ray and the doctors diagnosis to her portfolio in the "Health tests" section.
...our youngsters first time in  the Intermediate class...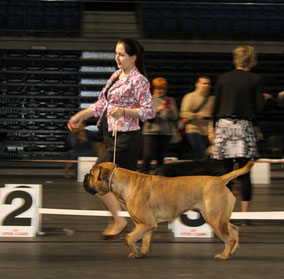 06/02/2016 at IDS "Tallinn Winter Cup 2016" (Estonia) our youngsters first time was entered in intermediate class.
ALPINE ROSE Honey Dynasty - excellent, BF1, CAC, her first CACIB, BOO and also title "Winter Cup '16 Winner".
Brother ALONSO JUNIOR Honey Dynasty was BEST OF BREED with CACIB.
Thank you very much to judge Saija Juutilainen (Finland) for the accurate constructive criticism and to Anastasija for excellent Rose's handling!
We are proud of our children!
Good luck in the future!
New Year - new dreams and hopes